Full Time Seasonal (April-November)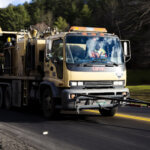 Website L & D Safety Marking Corporation
We are always looking for individuals to join our team; apply today!
LD Safety Markings is Hiring!  We're looking for hardworking dedicated individuals to join our team!  We look to other industry professionals to bring their knowledge to the specialized industry of pavement markings!  Those individuals with experience in, carpentry, road construction, excavating /site work, landscaping, Military, or any other similar type of industry!  LD Safety has developed a top-notch employee experience culture that allows for hands-on training and a career development path that will help you grow within our organization!  Learn from industry leaders, enhance your knowledge of our top-of-the-line equipment and build a career that will allow you to be successful and feel fulfilled while providing safer traveled routes for your family and friends.
Why join LD Safety Marking….
Minimum of $25-$30+ per hour while on the job
Travel Pay to and from the shop/jobsite
Career growth and path that you can help determine
Best Equipment in the industry, learning from seasoned professionals
Benefits (Paid holidays, Paid Time Off, Night work bonus pay, Medical Insurance, 401K with profit sharing, uniforms, Ongoing training)
Qualifications:
Valid driver's license – CDL B at a minimum
Ability to pass a DOT pre-employ physical and drug screen
Valid DOT Medical card or the ability to pass DOT medical card certification
18 years of age or older
Must be willing and able to obtain Hazmat and Tanker endorsements
Must be able to move or lift 50+ lbs.
10-hour OSHA certification or ability to obtain one
Candidate must have the ability to work in a fast-paced environment along with good social skills –tolerant, collaborative and a positive attitude.
Responsibilities include:
Safety: A Zero Incident Attitude…
Perform all tasks asked or assigned of you by Crew Leader.
Do the job to the best of your ability, every day
LD Safety Marking Corp. is an Equal Opportunity Employer.  Women, Minorities, and Veterans are encouraged to apply.